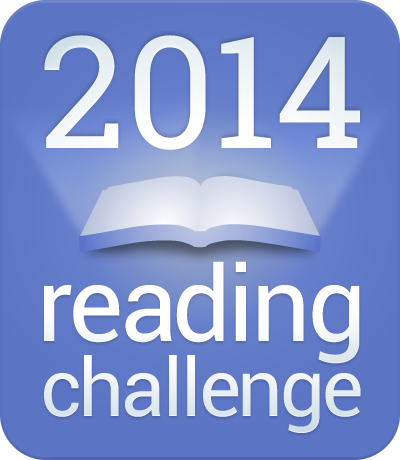 I did it!
I met my Reading Challenge and read 305 books in 2014
!
Back in May I
wrote about the Goodreads website
for tracking books I've read. Soon after creating my account and writing that post, I discovered that Goodreads had an annual reading challenge. Knowing that I listened to books during my morning jog, read at night, and read many picture books to my kids at bedtime, I set a goal to read 300 books in 2014. I reached that goal, but now I'm wondering if it was a good or accurate goal.
I discovered a lot of positives from having such a high goal. I was constantly on the look out for picture books to read to my kids at bedtime. This goal probably motivated me to read to them more than I would have otherwise. Along the way we made new book friends, discovered authors, illustrators, and characters we loved, and explored a wide range of books. I also made sure to pick up a new book for myself each time I finished one. I rarely went a day or two without some book that I was reading.
The
Elephant and Piggy
books quickly became our hands down favorite books. When we visited different libraries we were always on the look out for titles we hadn't read yet. We loved looking at the inside cover illustrations to find
the pigeon
, from the series that introduced us to author Mo Willems. We even discovered the pigeon hiding in other books by Mo Willems.
We did several author studies because of the first book we discovered by an author (
Mo Willems
,
Peter Brown
,
Amy Krause Rosenthal
,
David Shannon
,
Jan Thomas
,
Melanie Watt
,
David Wiesner
)
We absolutely loved
Chester by Melanie Watt
. It was actually the book that prompted us to start checking out the back flap to see who the author and illustrators were. Imagine our thrill when we discovered that there was
another book about Chester
! We laughed all over again!
Following Papa's Song
has pictures of the author's other books on the back flap. When they saw those pictures my girls insisted that I check the library website to see if we could check those books out next.
I used the Goodreads app on my phone to record the books we read and would rate them right away. My kids asked what I was doing and I explained why I gave a book the number of stars I did. More than once, after reading certain books my 2nd grader sighed and said, "Too bad we can't give 6 stars!"
Many times I would come home from the library with dozens of books and was all excited to read them to my kids right then! Sometimes they were in the mood, other times not so much. One thing I discovered, though, was that if I could corral one of my kids (usually my second grader) into letting me read a book to her, soon the others would stop whatever they were doing and join us on the couch. If someone was in a sour mood because life just wasn't fair, it usually took only a couple of pages before they were laughing and joining in on the conversation we had about the book.
At the beginning of December I still had almost 100 books to read. So I started loading up on picture books (I maxed out my library card as well as my daughter's), reading 4-5 at a time to my kindergartener. Sometimes I would read only one and then she would bring another one, and then another one, until we had read all that I had checked out from the library.
Buyer's Remorse
With all of these good experiences we had with reading, why, then, am I wondering about this goal? Several things about the experience have left me wondering if I went about it the right way.



I listen to audio books while jogging and in the car. I often have 5-6 sitting in my iTunes waiting their turn. I found myself choosing audio books that were shorter because I knew I would finish more of them. They were on my to-read list anyway and I already had them ready to sync, but I was prioritizing my reading so that I would finish books sooner and reach my goal, rather by what interested me at the moment.



In December I was in a rush to finish the final 100 books. I would check out books one day, read them, and return them to the library the next day. I believe that, by doing this, I robbed my children of the opportunity to relish books over and over. Earlier in the year I would have library books for days and days. My kids would pick them up several times to look through the pictures again or to read it to themselves. On occasion I was asked to read one more than once. But in the end, I was so rushed to check out new books that they missed out on this opportunity.

I felt rushed in the end. I was reading to meet the goal, not to purely enjoy the books. I (and my children) did enjoy the books we read. We relished them as we read and I was able to find a ton of excellent books, both because of the illustrations and because of the stories as well. There were very few that we rated three stars or less on Goodreads.



Out of the 305 books I was able to read in 2014, less than 50 were for my own personal enjoyment. Again, I read some pretty awesome books (

The Ascendence Trilogy

,

Razorland

,

Nathaniel Fludd, Beastologist

,

Maze Runner

,

Unbroken

), but the majority were geared towards my kids. Don't get me wrong, I loved reading to my kids and I loved the quality and range of books we shared. But to reach my goal of 300 books I had to focus more on them rather than me.
2015 Challenge
I think for 2015 my new reading challenge will focus on myself. Rather than make such a high goal that forces me to rush through books, I'll make a smaller goal that allows me time to enjoy each story. I'll choose more adult books as well (
Jack Reacher
is on my to-read list anyway!). If I pass my goal because of the picture books I enjoy with my kids, then so be it! 60 books sounds about right! And luckily the library is open tomorrow!