I have been busy getting iPads ready for teachers these last few days. I had many decisions to make about what apps to intall. Over the summer I followed several blogs that suggested this app or that app. I made careful notes, recording the name of the app and why. I thoroughly reviewed each app: what was the price, was it engaging, were there in app purchases, how do students get their work off the iPad and to the teacher? Did it teach only one concept or many? When I got back to school this year I looked hard at that list and threw it all away.
I realized that the "best math app" or the "best phonics app" was too limiting. I would never be able to find an app for every standard in every subject. Just because I thought the app might be great doesn't mean other teachers might think so as well. And besides, even if I did find the perfect app to teach states facts, for example, it would be useful for only that unit. In other words, most of the apps would have a one time use.
Through my PLN I realized that the best apps for the iPad are those that can be used across mulitple subjects. The apps where students can create something are the ones that will be most engaging and will get the most bang for the buck.
So here are a list of what I call "Creation Apps". These are apps that I feel can be used by almost any grade level, for almost any subject. Their uses are endless.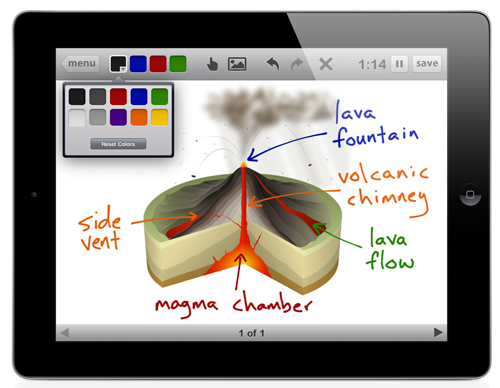 Educreations
and
ShowMe
These are free recordable interactive whiteboards that your voice and handwriting to produce video lessons. Teachers can create lessons to share with students. Students can create their own videos to teach a concept or demonstrate what they know.
Students solve math problems and narrate their thinking
Students create math problems and narrate their thinking
Students write stories and narrate them
Students create video lessons similar to Khan Academy in any subject
Students practice fluency by reading a story while a partner illustrates the mind movie that is created (thus practicing listening comprehension / visualization skills)
Toontastic
and
PuppetPals
These fantastic apps are one of the few I am willing to pay for. Students create cartoons using puppets that can be moved around the screen. They can create multiple scenes, recording their voice while telling their story. The paid versions include all the characters and backgrounds that are available. Each app has it's unique features that make them very engaging and great creative tools.
Book Creator
This simple app lets students in all grades create their own books and publish them. Students can work alone or collaboratively on books. They can add pictures, links, and audio. All books are published in the standard ePub format, which is completely portable between devices. The types of books students can make are only limited by your imagination.
Children's picture books
How-to books
Textbooks
Story books
Reports
These are just a few of the apps I've installed on our iPads. There are many others such as
Edmodo
and
Whiteboard Lite
(iTunes link), that aren't creation apps in and of themselves, but can still be used across subjects and grade levels. I would much rather have an iPad with only a few of these kinds of apps than one filed with one time use apps.
What apps have you found that can be used for a variety of purposes?